Meet Our Stoney Creek Staff
To run a successful golf course you must have a great staff, and we do.  They are all vested in the success of Stoney Creek Golf Course.  Here they are with a brief description of what they do to make this a great golf course.
Owners Brian and Terri Zehnder
First and foremost are the owners, because with great owners the entire operation has a solid foundation. Brian and Terri Zehnder are our foundation.
Pro Shop Staff
The pro shop staff creates the first impression of a golf course.  Our staff is the best and they all are friendly and knowledgable.

Mike Lohman
aka Michigan Mike
Mike has been here at Stoney for many, many years.  He always has a smile and a howdy to everyone.  Mike has been a valuable addition to the pro shop.
Ron Lohman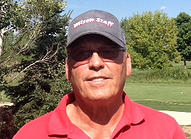 Ron has been at Stoney Creek since 1990.  Ron also does double duty working in the pro shop and is our resident Golf Teacher.  He also is very friendly and is a very good good teacher.
Please look at his web page Golf Lessons, you will learn alot and have a lot of fun doing it.
Ron is also the lead designer for this website.  Ron has had lots of help from the staff in creating this website. We all hope you enjoy it.
Stephen Zehnder
Stephen is the son of the owner and not only works in the pro shop but also does some of the mowing to keep Stoney looking good.  He will take good care of you.
Maintenance Staff
It goes without saying that making a golf course great is in the hands of the maintenance crew.

Brad Hernandez
Brad came on board August 2013 and has learned all about golf course maintenence.  From the sprinkler system to taking care of the greens to mowing and everything in between.  There has been a lot to learn and he has done it well.
UNSUNG HEROS
There are several others that contribute to Stoney Creek.  These guys help Stoney Creek in several ways.  Thank you guys.
Kenny & Billy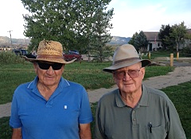 They play almost every day of the week and are first off the tee in the morning.  They do our ballhawking and tee cleanup.  They look everywhere for balls that are considered lost by other Stoney Creek players.  Kenny takes the balls home and gives them a cleaning, brings them back to be seperated by manufacture and resold as bag balls for $5.00 a dozen.  They also clean up the broken tees to make our course more beautiful.
John
John also plays nearly everyday with Kenny and Billy and doubles as our trash engineer plus fills the water jug on the fourth tee, picks balls off the back side of the driving range, by hand no less, plus other duties to help Stoney Creek looking good.